As part of our ongoing quest to reduce our energy usage and carbon footprint, we have installed a compressive home energy logging system which uses various sensors to monitor our energy consumption, generation and environment data, which are collated in Home Assistant and also on our home data logger website.
In August 2017, we performed a significant upgrade to our home network with the addition of a TP-Link T1600G-52TS JetStream 48-Port Gigabit Smart Switch with 4 SFP Slots and then in October. We upgraded to 10Gb fibre using a MikroTik CRS309-1G-8S+IN for our Synology network attached storage devices and our main workstation computers.
The TP-Link gigabit switch was linked to the 10Gb MikroTik switch via an SFP fibre adapter and short link fibre cable.
Our network cupboard is monitored using a modified Kasa Smart Plug by TP-Link model HS10, which logs energy usage and mains voltage.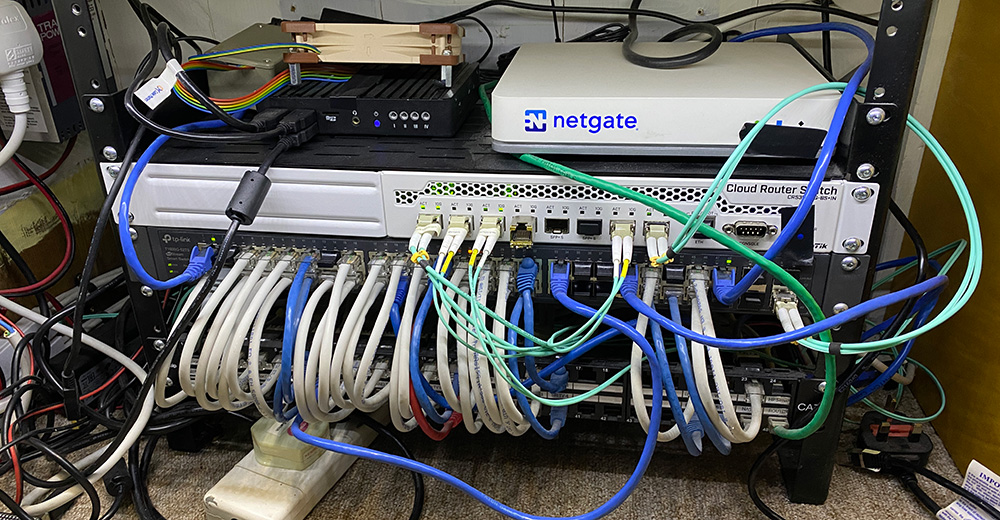 Connected to the network monitoring smart plug are the following devices:
APC Back-UPS 210 Watts /350 VA
Gigabit Internet Gateway Network PC runs our home logging software, Home Assistant, MySQL databases, backup processing scripts and various docker images.
SG-3100 Netgate Security Gateway Appliance with pfSense Plus Software
TP-Link T1600G-52TS JetStream 48-Port Gigabit Smart Switch with 4 SFP Slots
MikroTik CRS309-1G-8S+IN – 10 Gb network switch
All the above are running 24 hours a day, 7 days a week, 52 weeks a year, and the average power consumption varies between 50 and 55 watts depending on the load of the Gigabit PC.
We only run the docker images between 7 am and 11 pm, adding approximately 1-2 watts to the baseline power consumption.
The annual energy usage is approx. 464kWh/year which at our current electricity costs of £0.18832 per kWh is £87.43 per year.
The chart below shows the daily power consumption of the network devices.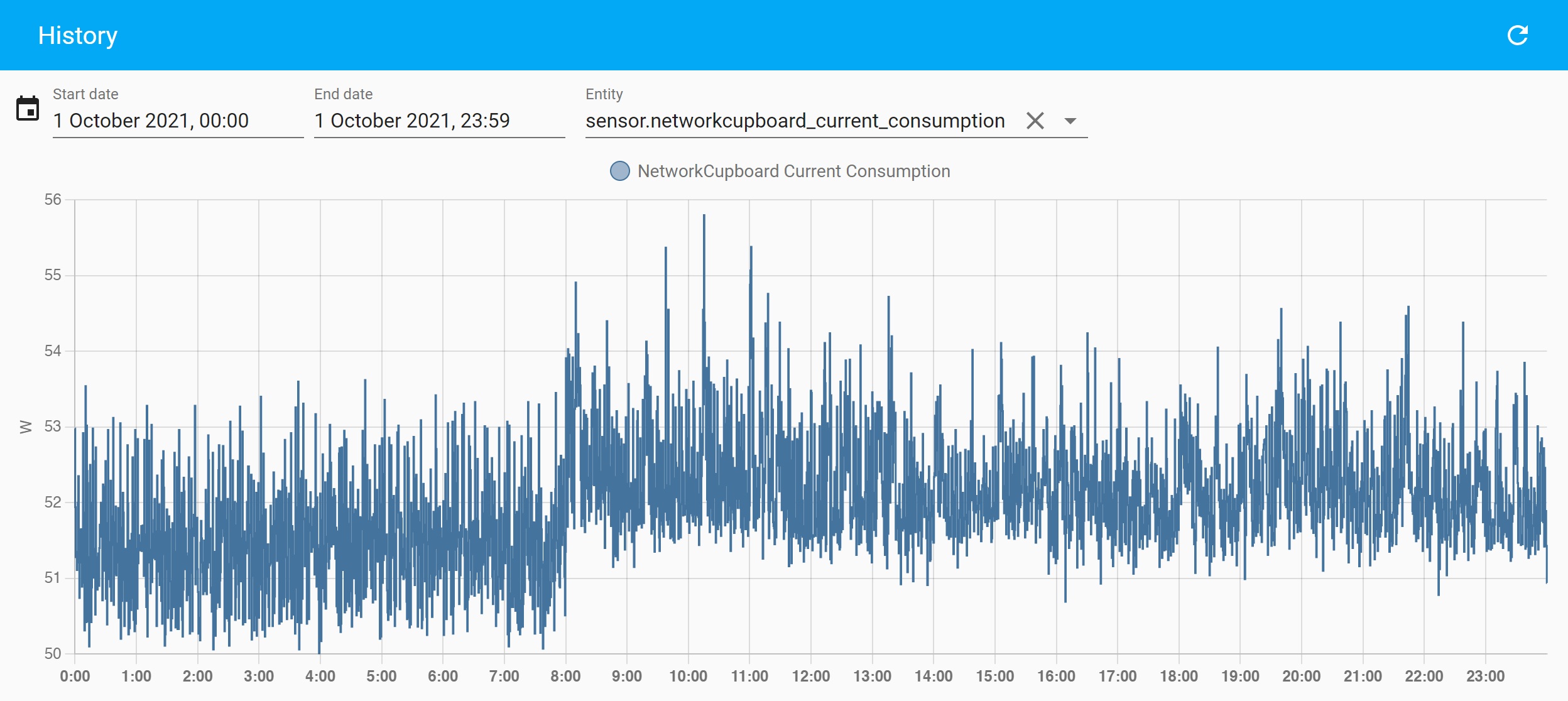 Increasing Electricity costs
We are currently using a fixed-term 12-month electric contract at £0.18832 per kWh, which is the average based on our location in the UK. In the past 10 years, energy prices have risen over 50%. There have been warnings that energy prices may increase by an additional 30% in 2022, so with this in mind, we decided to try to reduce our annual consumption further and investigate other generation options.
Solar Upgrade Plans
We are considering upgrading our existing 10-year-old 500w PV solar panels, removing the solar thermal hot water panel, and replacing it with 3.2kW solar PV panels and a hybrid inverter and battery system.
We would also add a solar bypass system which would feed additional energy into the hot water cylinder when the batteries are full, and home energy usage is low.
Due to the extra weight, this would add to the roof structure, we will need to reinforce the 120-year-old wooden roof beams.
This will need to be done outside the existing slates, insulation removed and additional timber fitted to each.
We have spoken to a local builder who specialises in roofs. We may have to put all the planned solar upgrades on hold until the price of wood and other materials decreases and availability improves. There are currently shortages across the building industry, and prices are over 100% higher than in previous years.
New 28 port network switch with 10Gb
With our current TP-Link 48 port 1Gb switch, we only use half the ports and 4 x 10Gb ports on the MikroTik switch.
As the Synology Diskstation and the workstation computers are not running at night, the switch was unused for around 9 hours each day but still consuming standby power, with half of the 48 1Gb ports not being used, the switch's internal circuits still used power for these as well.
We created a spreadsheet of all our current network devices, allowing for expansion, and we found that we could use a smaller single rack-mounted network switch with 24 x 1Gb ports and 4 x 10Gb SFP+ slots for the two NAS drives and our 2 main workstation computers.
All other devices could continue to use 1Gb network ports as before.
As we have had good experiences with TP-Link switches and hardware in the past, we decided to purchase a single replacement switch that would meet all our requirements and lower power consumption.
We found the TP-Link TL-SG3428X JetStream. A 24-Port Gigabit L2+ Managed Switch with 4 10GE SFP+ Slots, which we could use with our existing fibre converters and would be a direct replacement for our existing two network switches and costs £174.32 ex VAT (£209.19 including VAT).

The new switch was ordered from Broadband Buyer and arrived the following day.
The switch has a USB serial console port, allowing us to connect to the console and set the switch's IP address, with the remaining configuration completed via the web-based UI.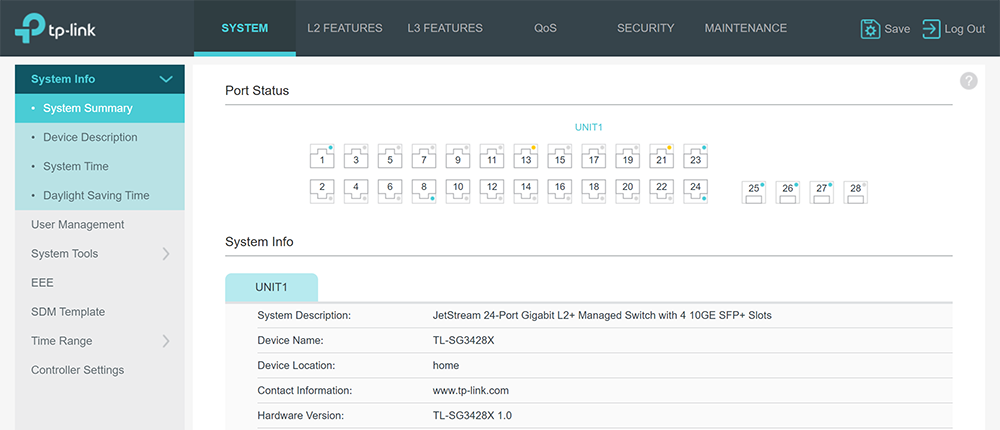 The 10Gb and 48 port switches were removed from the network rack, and all existing cables were removed from the patch panel to allow the installation of the new switch.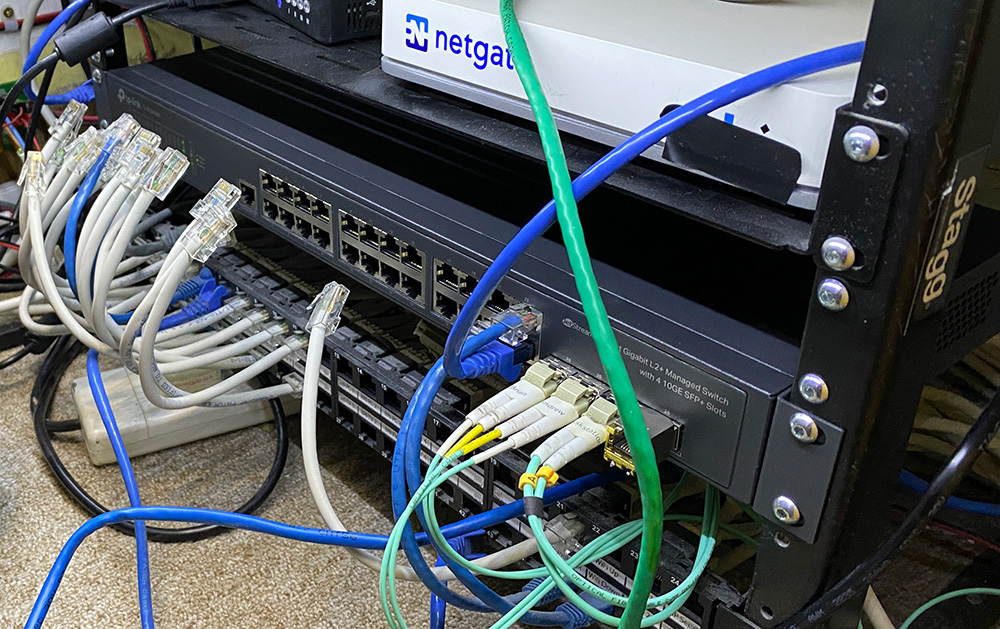 The new switch was installed, and the patch cables reconnected to the patch panel as required.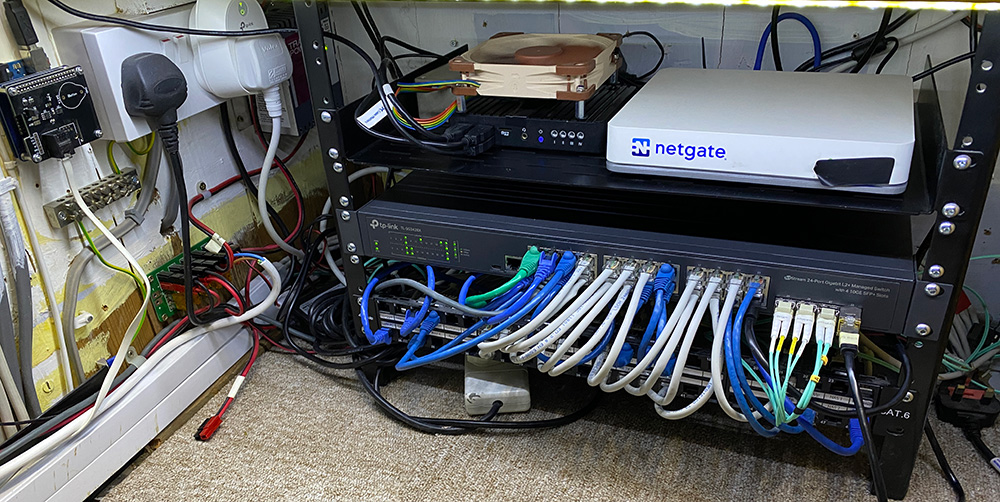 We have 12 network cables running from the patch panel to the loft workshop, but we only need two network cables for the computers and 4 for the test equipment. As all the loft computers and devices use a 1Gb connection, we decided to use just three of the ports on the new switch for the loft and install a basic 16 port network switch in the loft, which is powered on when the main bench power is enabled.
New Network Power Consumption
With the new network switch installed alongside our other network cupboard equipment, the power consumption had dropped to 29.9W during the daytime and 27.6W at night.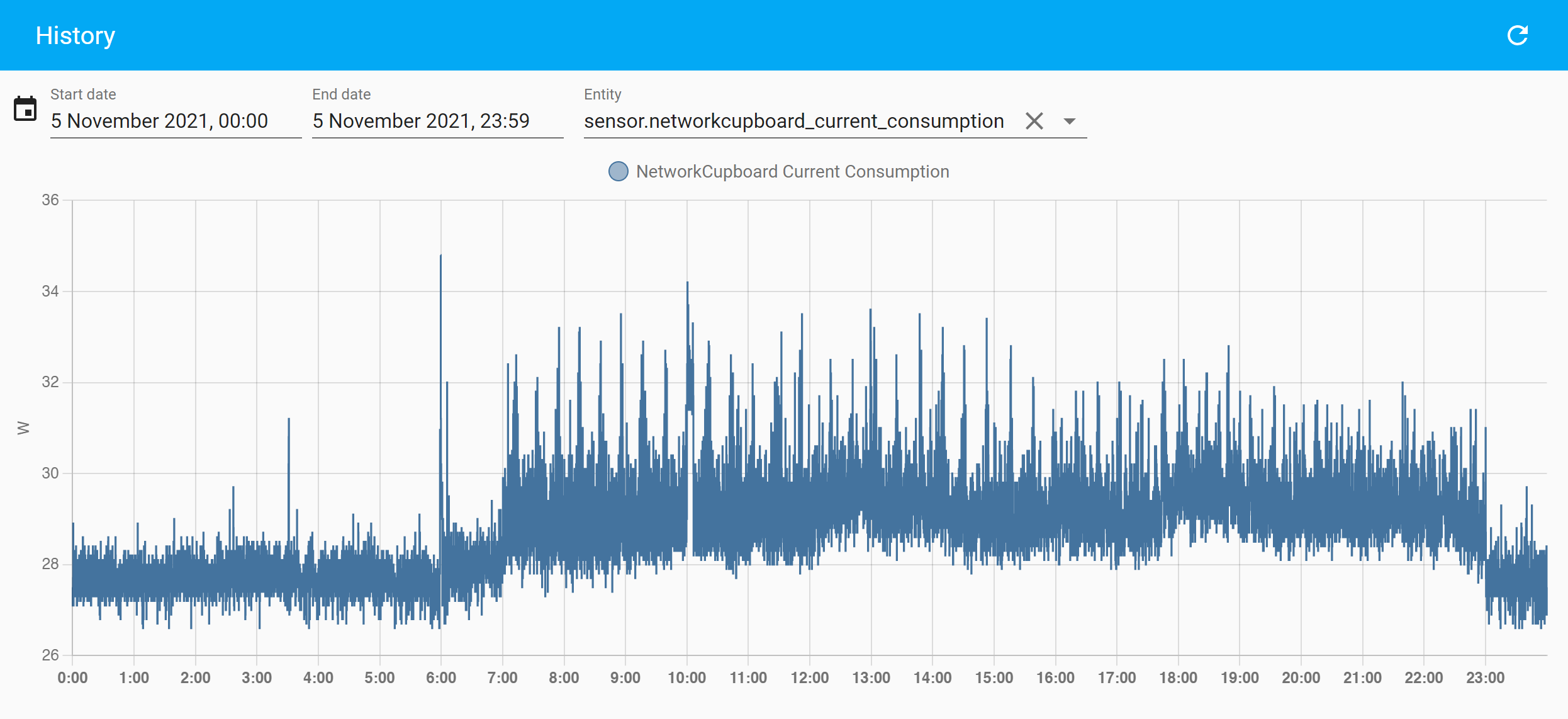 This saves around 24 watts of mains energy which costs £39.60, saving us £47.83 per year.
With the switch costing £209.18, it should take around four years at current energy prices to recoup the costs, but with energy prices increasing at current rates, the payback time should be faster.