The home network installation for our computers was first set up using 10BASE2 coax connections when we only had 2 computers and one was connected to the internet via a modem. Since then we have upgraded to using first network hubs and then switches for all the connected devices.
In our last major re-wire & upgrade when the house was struck by lightning, we ran two network cables to each room and these were connected via a central hub in an upstairs cupboard. The network router and main telephone point were downstairs so one of the connections to the room was used as an internet uplink to the hub.
Over time we found that we needed to add separate network switches to each room to connect additional devices such as smart TVs, game consoles, printers, computers etc. This resulted in having four switches in the house with a mixture of 8 and 16-port gigabit switches from Netgear and for wireless devices, we installed Netgear and TP-Link business class access points with one on each floor.
With the recent work, we have been doing on IoT (internet of things) devices and smart home components we felt it was a good time to have a big upgrade on the entire houses network and have a centrally managed switch in the house with additional gigabit network ports and new cables to each room.
We looked at several 48-port Gigabit switches from different manufacturers and decided to go with the JetStream 48-Port Gigabit Smart Switch with 4 SFP Slots from tp-link. We chose this model due to its low power consumption with a fan-less design which is important as the network cupboard is between two bedrooms and the management features allow us to mirror ports to capture data from any connected devices which is very useful when debugging network-related code.
We drove to Novatech in Portsmouth and collected the new network switch, a 100 pack of RJ45 connectors and a 300m roll of CAT-6t grade cable.
From Amazon, we ordered a network cable tester which proved very useful in tracking down any faults and a 48-bay patch panel with CAT-6 sockets. These were mounted in a Stagg MRSA8U 19-inch 8U tabletop rack from absolute music in Bournemouth which we modified to have the legs at a 90-degree bend to hold everything vertical when fitted to the cupboard floor.
The photos below show the progress of the installation which used around 200m of new network cable.
The old upstairs network and switch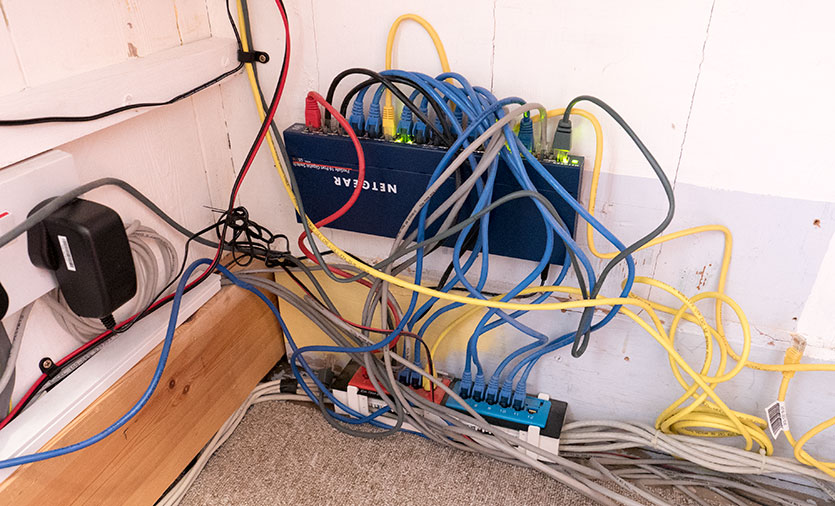 The old downstairs network and switch and router.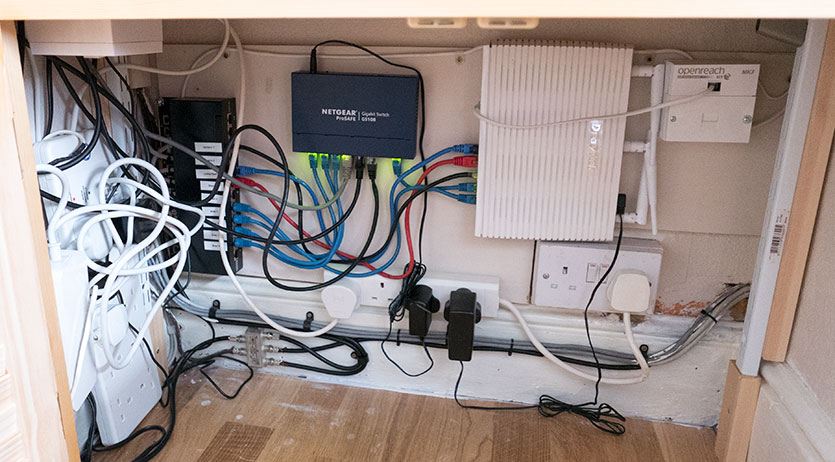 We ran 14 new cables from the downstairs network area to the new switch location and 8 new cables from the loft workshop to the new 19" rack.
Ready to install the patch panel.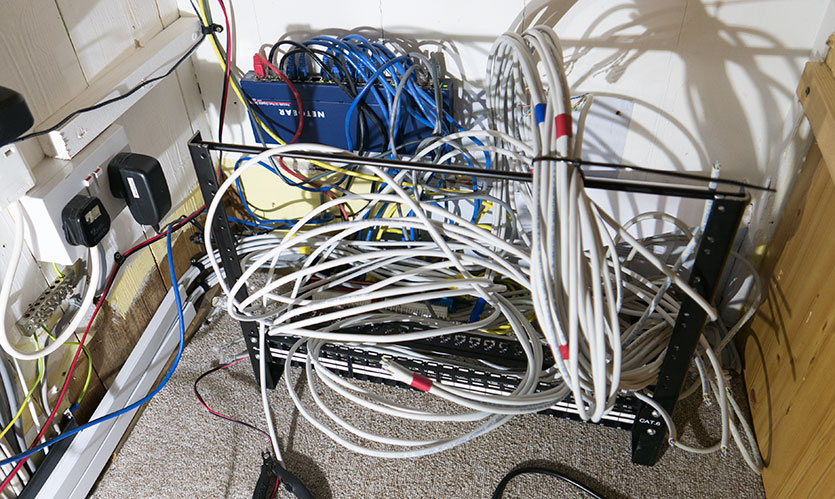 Wiring the patch panel.
The patch panel sockets installed.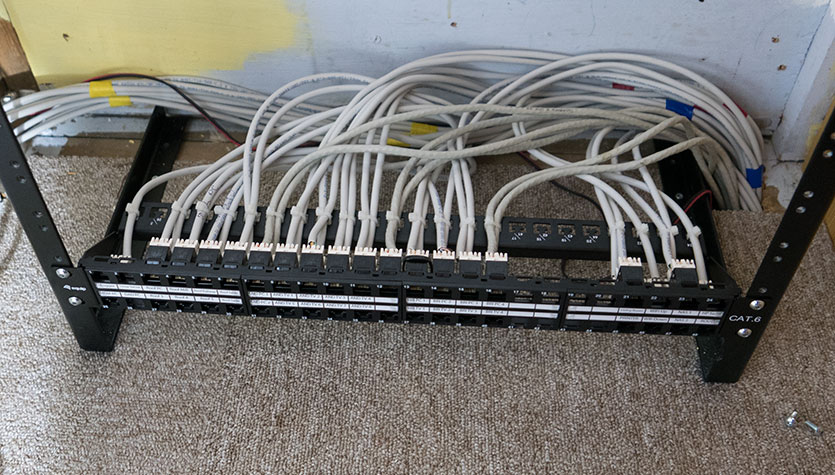 The new 48 port switch installed with a spare shelf above.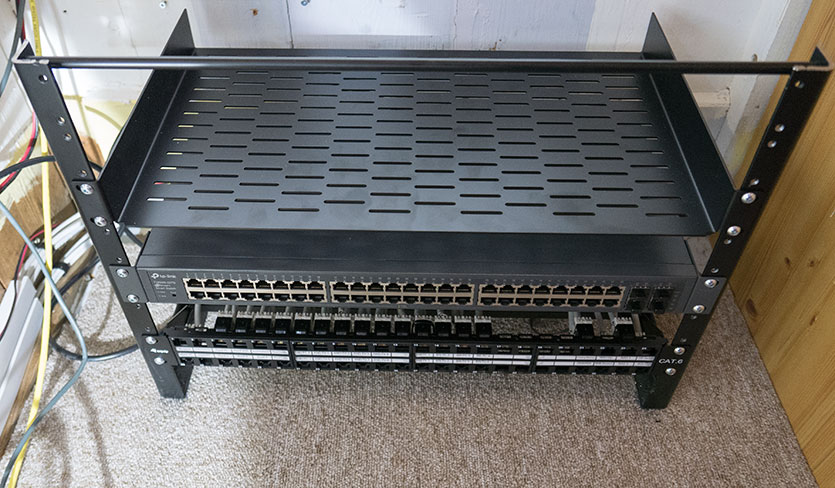 All the link cables installed.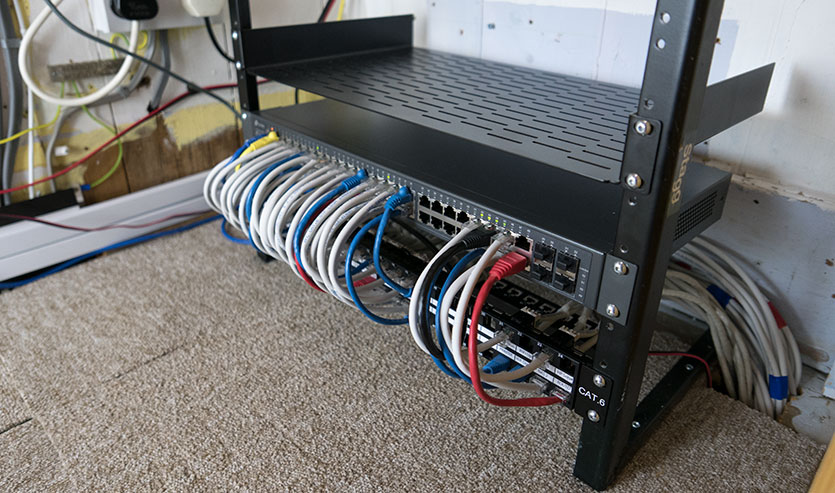 The updated downstairs network and router.