TL;DR Due to lots of small changes to our usage and replacing some old household appliances our energy usage is around 45% lower
Solar PV Data
It has been six months since our 1.6Kw solar array was fitted, raising our daily energy generation from around 1.8 kWh per day from the old 500W array to 10.5 kWh per day in the summer.
We have generated 1020 kWh with the new panels in six months, and the old panels only generated 68kWh in the previous six-month period. With our current electricity price rate of £0.3423 per kWh, we have saved £349 with the new solar panels.
If the first six months of the year generate the same energy, this should be approximately £700 per year savings on our energy bills.
In the blog post where I detailed the installation of the panels, I estimated that the annual savings would be £1122, but this did not consider the very cloudy months we had in October, November, and December this year which significantly reduced the solar PV generated. This new annual saving only increases the payback time to three years for the entire solar system.
At the end of August, we fitted a myenergi eddi solar power diverter to use excess PV energy to heat water using the immersion heater element in the hot water cylinder.
The myenergy website has stats for the eddi diverter but does not have monthly totals going back more than two months and no way to export the data.
I added the myenergy eddi data to the home logging website in October. We now have ongoing daily records of the energy diverted into the hot water system.
Home Energy Consumption
We have energy usage data going back to April 2008 on our Home Data Logger website, and the average annual electric consumption was around 7-8000 kWh. Yearly gas consumption for heating and cooking was around 20,000 kWh per year.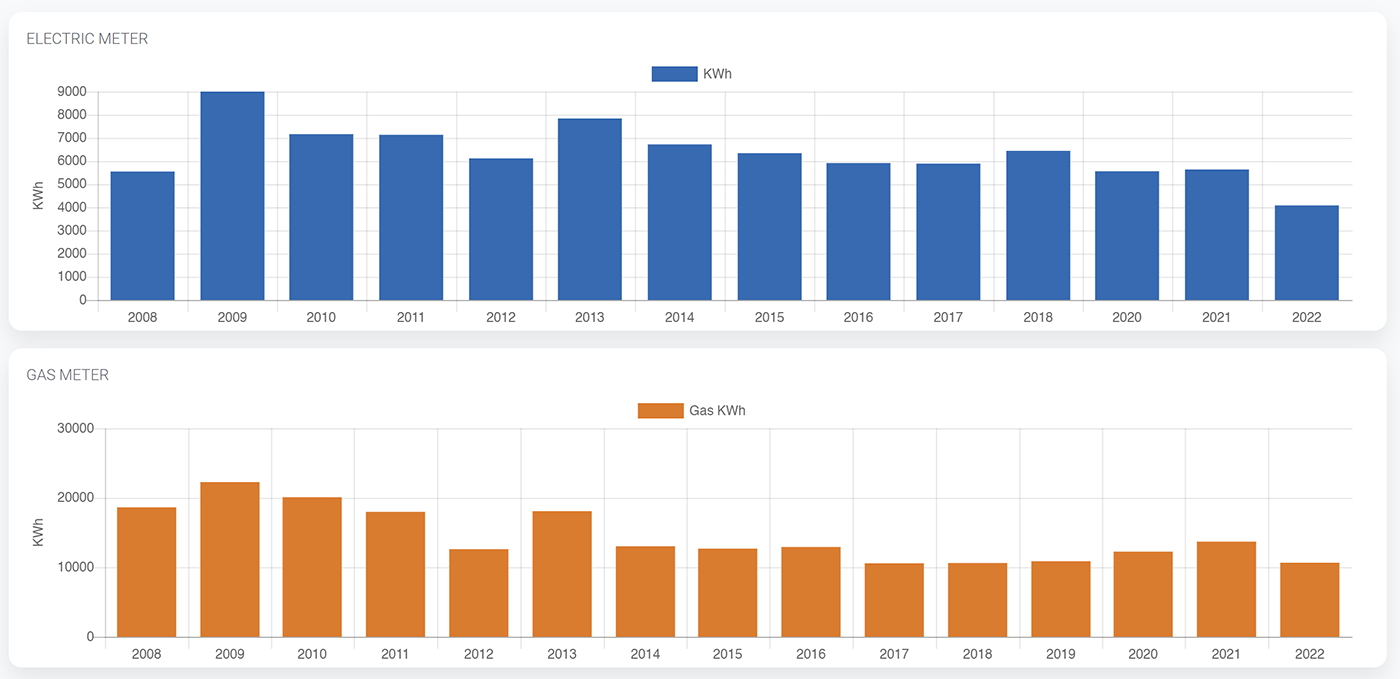 In 2012 we had the front half of our roof replaced and insulated when we installed the 500W solar PV and Thermal systems. During the summer, this provided most of our hot water needs, reducing the annual gas consumption to around 13,000 kWh per year.
In 2013 we started working on ways to reduce our electric consumption further with more efficient lighting and other small changes.
In 2016 we had the rear part of our roof replaced and insulated, which helped reduce our heating needs further, resulting in a reduction in gas usage by approx. 20%.
Earlier this year, we replaced several old cast iron radiators with much more efficient steel radiators, that heat up faster and radiate more heat into the rooms. We also replaced the largest upstairs window with a triple-glazed unit and insulated the sides of the window dormer with 50mm of foam insulation panel, resulting in less heat loss in the room.
We planned to order two additional triple-glazed windows for the second bedroom and bathroom. Due to ongoing stock issues, our supplier could not source them before the winter months, and we did not want to redecorate the rooms in winter, so this will be a project for 2023.
The rear of the house is north-facing and built with a solid stone construction, so there is no cavity that could be insulated to reduce heat loss. The back of the house has always been much colder than the south-facing side, and we are looking at possible ways to insulate the walls internally. The rear bedroom will be straightforward to do, but the bathroom has the hot water cylinder/airing cupboard, bath and toilet on the outside facing wall, and these would need to be moved to add up to 80mm of insulation.
The bath would need to be replaced if moved, and with the cost of the breathable insulation and work required to move all the plumbing and have the bathroom tiled again, we are not sure if the costs of materials and time spent on the project would outweigh the heating cost savings for the room.
More energy-saving measures in 2022
With our annual electric consumption down to approximately 5500kWh per year and all the previous energy savings we had made with lighting, network and other devices, we decided to see if we could reduce this even more.
Our home assistant software with the many energy monitoring devices has given us a good overview of the energy used by each appliance and by changing the time devices such as TVs and media devices are left on standby we have made further savings.
Our NAS server used to run from 7 am to midnight, but we have now set it to run between 9:30am and 10 pm, reducing its daily energy consumption.
Kitchen Savings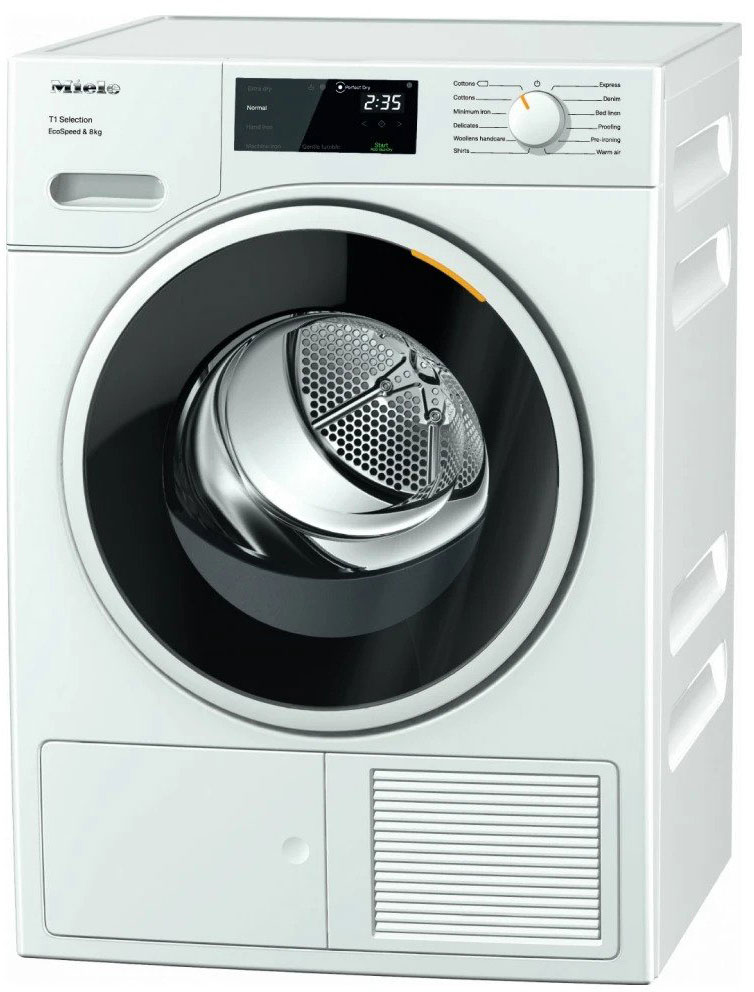 Our washing machine, tumble dryer and fridge freezer are the most significant energy users apart from the computers.
Reducing the washing machine water temperature from 40 degrees to 30 has resulted in a 40% saving in electricity per wash.
We have always tried to dry clothing on the washing line outside, but for towels and bedding, we would use the 3KW vented tumble dryer, and this used to take around one and a half hours per drying cycle, using around 4.5kWh.
As we often have two washing loads per day drying indoors, this was a substantial percentage of our overall energy usage.
When the bearings failed again on the tumble dryer, we decided it was time to upgrade to a much more efficient heat pump condensing model. After a lot of research, we ordered the Miele TSF643WP 8kg Heat Pump Condenser Tumble Dryer, which has an A+++ energy rating. This was much more expensive at £919 compared to the basic models, which cost around £200, but the new dryer only uses less than 1 kWh per cycle, saving £2.40 per day (based on 2 washing loads).
The energy savings in the first year should be over £800 compared to the previous dryer.
We also had to replace our fridge-freezer, which failed in the summer. The old Hotpoint mode used over 400 kWh per year, and due to our energy monitoring, we saw that the compressor started to run much more than usual, tripling its daily energy usage.
We replaced it with a BOSCH Serie 2 KGN34NWEAG 50/50 Fridge Freezer, which has an advertised energy consumption of 244 kWh/annum and based on the past few months of energy data, this is very close to our measurements showing 226 kWh/annum.
More Computer Power Savings
With the changes made in 2021 to our home network, the only devices left to further reduce the power consumption were the main workstation computers used daily by myself and Andrew.
We both have desktop systems running AMD processors with the following components:
| Device | Andrew PC | Brian PC |
| --- | --- | --- |
| Motherboard | ASUS Prime X570-PRO ATX Motherboard | ASUS ROG X570-E GAMING WIFI II |
| Processor | AMD Ryzen™ 9 3900X, AM4, Zen 2, 12 Core, 24 Thread, 3.8GHz, 4.6GHz Turbo | AMD Ryzen 9 5950X Processor (16C/32T, 72MB Cache, Up to 4.9 GHz Max Boost) |
| Graphics | Nvidia 1080 ti Graphics Card | Palit RTX 3080TI GAMING PRO |
| Memory | 64GB (2x32GB) Corsair DDR4 Vengeance LPX Black, PC4-28800 (3600) | 64GB Corsair Vengeance RGB RT |
| Primary Storage | Seagate FireCuda 520, 2 TB, Performance Internal Solid State Drive SSD PCIe Gen4 | Samsung 980Pro 2TB M.2 PCIe4 |
| Secondary Storage | Samsung 860 Pro 1TB SSD | Samsung 980Pro 2TB M.2 PCIe4 |
| Extra Storage | 2 x Samsung 860 Pro 1TB SSD | 3 x Samsung 860 Pro 2TB SSD |
| Power Supply | Corsair CP-9020187-UK 750 W RM750x Fully Modular ATX Power Supply | Corsair RM750x White 750 Watt Fully Modular ATX PSU |
| CPU Cooling | Arctic Liquid Freezer II 360 Cooler | Arctic Liquid Freezer II 360 Cooler |
| Case Cooling | 2 x 140mm Noctua NF-A14 | 3 x 140mm Noctua NF-A14 |
| Monitors | 2 x Dell 24" 4K monitors | 2 x Dell 24" 4K monitors |
| | | |
| Power consumption idle | 200W | 220W |
| Power consumption playing VR games | 480W | 600W |
For most of the working day, we are only using desktop applications such as web browsers, Visual Studio and Adobe Photoshop, which use a small amount of the overall CPU and GPU power and only do more demanding tasks such as video editing or VR gaming for a few hours each week.
As these desktop computers are overpowered for 99% of the work, we decided to look into lower power compact computers which could still run our dual 4K monitors but use much less energy when doing our daily tasks.
Dell OptiPlex Micro form factor purchases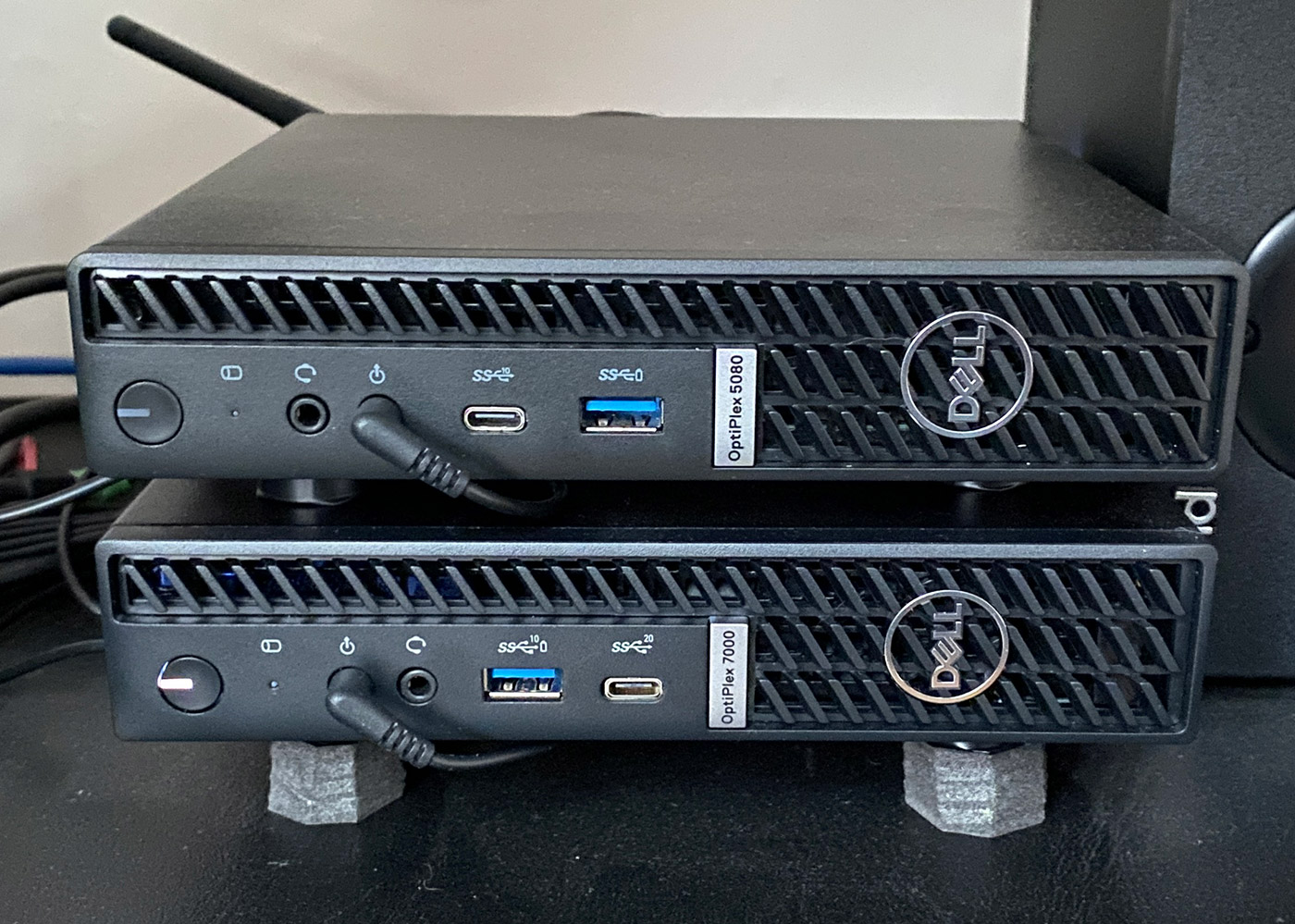 I found a used DELL OptiPlex 5080 Micro with an i5-10500T Intel CPU, 512GB NVMe SSD and 16GB Ram on eBay for £339, which had dual display port outputs. After ordering the Dell PC, we installed a 1TB NVMe drive with Windows 10. Aafter setting this up to use as a secondary PC via a KVM switch, we found that it could run all our usual applications without any issues. The only problem we encountered was loading large images in Photoshop; the 16Gb ram was slowing things down.
Measuring the power consumption of the Dell Micro, with both 24" 4K monitors the computer used 80 watts, and with a single monitor, this dropped to 65 watts compared to 200 watts for the old desktop computers. Due to the small size of the case being only 182 x 178 x 36mm, the computer could be installed behind the monitors or under the desk if needed.
After using the Dell PC for a few weeks, we decided to purchase a new OptiPlex 7000 Micro system for me to use as a primary PC and only use the old desktop computer for video editing and VR gaming.
The new Dell OptiPlex 7000 was ordered with a 12th Generation Intel Core i7-12700T (12 Cores/25MB/20T/1.4GHz to 4.7GHz/35W) CPU. The default system from Dell only had 8GB ram and a 256GB PCIe NVMe storage drive, and the cost of larger drives and memory from Dell was more expensive than purchasing elsewhere.
I ordered a pair of Crucial 32 GB (DDR4, 3200 MHz, SODIMM, 260-Pin, 1.2 V, CL22) Memory sticks to bring the ram to 64GB and a Western Digital Blue SN570 1TB M.2-2280 SSD as a boot drive and Western Digital 2TB WD Blue SN570 NVMe Internal Solid State Drive SSD as a storage drive.
The extra ram and storage were vital as I ran the development web service on my PC under IIS and used Microsoft SQL Server on the machine.
The new computer arrived a few weeks later, and after setting it up, we found that the idle power consumption was around 90W, and under full load, this only peaked at 170W when rending video at 100% CPU usage.
We ordered a second Dell OptiPlex 7000 system for Andrew a few weeks later after finding a refurbished model on the Dell store for £300 less than the cost of the new system.
With the old desktop PCs, we would use around 4 to 5 kWh per day in electricity, and with the new Dell OptiPlex 7000 Micro systems, this is now approximately 1.2 kWh per day.

I know that the financial savings will take a very long time to recoup the cost of the computers. Still, the smaller computers' lack of noise and heat will be much better in the summer months, when the larger desktops produced much more heat.
Year End Savings
With all the changes made in the past year, our annual electricity consumption has dropped by 32% to under 4100 kWh, and our gas usage has dropped to 10,600 kWh.
We are now using around 45% less electricity and 40% less gas than ten years ago.
With the upgraded solar PV panels, we hope that 2023 will have even lower electricity usage and gas during the summer months as more of the excess energy will be diverted to the hot water.