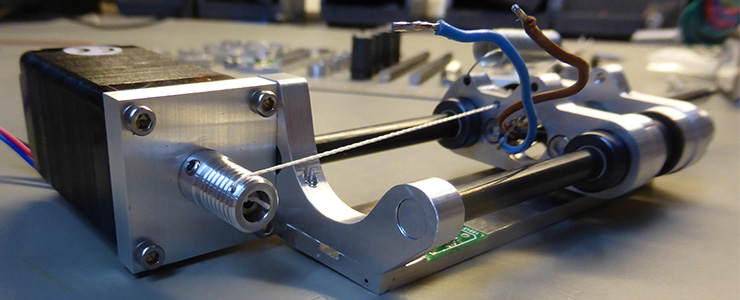 We have finished the soldering iron element slider system and stepper mount for the new soldering robot project.
The soldering iron element slides on a pair of 6mm rails, drylin® accessories, precision aluminium shaft 100mm length (part no: AWMP-06) with drylin® R – Bearings (part no: RJZM-01-06) from www.igus.co.uk which are mounted into milled 6mm aluminium plates. These are bolted to a 4mm aluminium base which has slots milled to allow it to be mounted onto a horizontal frame above the board to be soldered. The design files for the head assembly can be downloaded in PDF format Download PDF
The slides use a small spring to pull the soldering iron onto the PCB and ensure an even pressure while heating and soldering, a stepper motor with a pulley and cord are used to pull the assembly back up and away from the PCB. A reflective photo sensor is mounted near the top of the travel to allow the slides to be homed by the software and stepper system.
The solder will be fed to the soldering iron tip by tube feed in a similar way to the filament feed systems on 3D printers with a stepper motor and roller to drive the solder into a flexible tube which is mounted on the slider and a short adjustable metal tube to feed the solder to the tip.
The video below shows the first test of the stepper motor being driven with an Arduino Uno and stepper driver running at approx 200mA with a 20V supply.