We have now purchased a Maynuo M9812 Programmable LED DC Electronic Load rated at 0-150V 0-30A 300W.
We had planned to buy a DC load to use for testing battery drain, battery controllers and for our new solar data logger system which is slowly progressing. We looked at a very similar DC load from B&K Precision, model 8500 but this was over £1100 from UK suppliers compared to the cost of the Maynuo M9812 unit which was £304 plus import costs of £80.
After looking at the specifications and online reviews and video teardowns of both units we decided to order the cheaper model.
There is an optional TTL-USB isolated adapter available for around £80 but we have designed our own to fit into a DB9 plug on the back of the unit which will give us a USB com port to allow us to control and log software which Maynuo provide as shown below: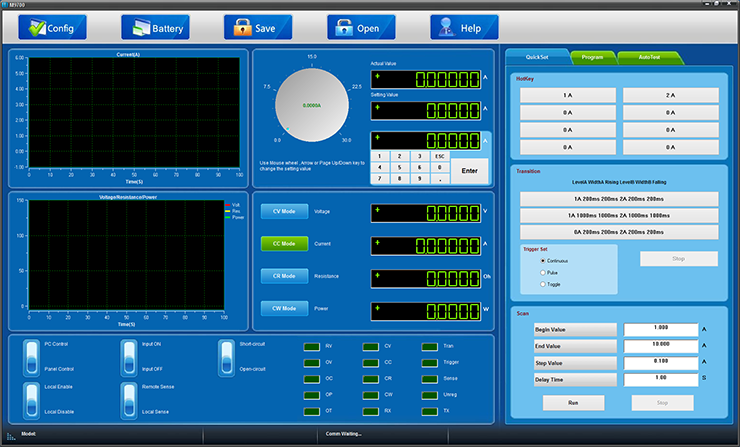 Click to expand
The DC load has a very useful function for battery testing which allows us to set a preset current draw and the load will consume this until the battery voltage drops to a preset level.
DC Load Features
Six high-speed operation modes: CC,CR,CV,CW,CC+CV,CR+CV
Over current, over voltage, over power, over heating and polarity reversal protection
High-luminance vacuum fluorescent display (VFD) screen with two lines, four-channel display
Intelligent fan system will automatically activate based on changing ambient temperatures
Soft-start time setting, activating the power supply in accordance with the set voltage value
Battery test and short-circuit test functions
Capable of rising edge and falling edge dynamic testing
Supporting external triggers on either input or output
External current waveform monitor terminal output terminal
Supports remote voltage compensation and multi-data storage
Power-on-self-test, software calibration and standard rack-mountable
LED mode for LED power driver test, steady reading, compatible with simulating the capacitances sensitive driver
Edits arbitrary waveforms in the list function
Available with RS232/RS485/USB serial interfaces.
Manufacturers web page: www.maynuo.eu