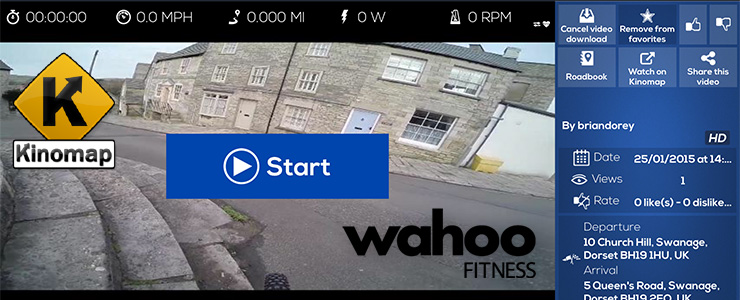 In November 2014 my brother and I decided to buy a pair of Specialized CruX E5 cyclocross bikes to use in addition to our full-suspension mountain bikes. We decided to buy cyclocross-style bikes rather than pure road bikes due to the stronger design and more relaxed riding position on a cyclocross bike compared to the more tucked-down riding style on a dedicated road bike.
We also wanted to start riding longer distances and the lower rolling resistance and lighter weight of the Specialized CruX E5 would make longer rides easier and more enjoyable and still have the ability to go off-road on most of the local tracks and routes. They would also make it much easier for us to ride to Poole or Bournemouth to go shopping for small items which we can carry rather than driving which is a lot more expensive!
Over November and December we rode over 400 miles on the new bikes but in January this year, the weather turned very cold and windy so we didn't get out as often as we planned.

After talking to a local cycling club member he told me about using an indoor bike trainer to keep fit when the weather is too bad to go out and after looking at a lot of different options we decided to go for an electronically controlled Wahoo Fitness KICKR model http://uk.wahoofitness.com/ which we purchased from www.wiggle.co.uk and also a cadence sensor to measure the pedal speed and ordered a Wahoo RPM Cadence Sensor which is Bluetooth 4.0 and ANT+ compatible from http://www.wiggle.co.uk/wahoo-rpm-cadence-sensor-bluetooth-40-and-ant/
To measure my heart rate when on the bike and also on the trainer I decided to get a Mio Link Velo Heart Rate Wrist Strap from www.wiggle.co.uk/mio-link-velo-heart-rate-wrist-strap/ which also works with my Garmin GPS and my phone using Endomondo sports tracker.
When the wahoo KICKR arrived I had to change the supplied 10-speed cassette for a 9-speed one to match our bikes and after fitting the bike I had to make some small alignment adjustments on the rear mech cable tension to fix minor alignment issues.
I initially downloaded the Wahoo Fitness workout tracker app onto my iPad and then decided to buy the Segments app which connects to my Strava account so you can replay and ride against other riders on various Strava segments.
I wanted to try a video-based training app which could control the resistance and load on the trainer via Bluetooth and after looking at a lot of different options I installed the Kinomap Trainer app from Kinomap) who has thousands of videos on their website/apps which are viewable with an online subscription?
They also allow users to upload their own videos and GPS tracks so other users can re-ride their own routes and we thought this would be a good way for us to be able to re-ride our local routes on the trainer with the same simulated hills when the weather is too bad to ride outside.
Today we made our first video/GPS ride for one of our regular shorter rides from home and along Ballard Down, to Old Harry rocks and back via Studland village. I recorded the video using my GoPro Hero 3+ and the GPS data via my Garmin GPS unit.
The Kinomap site has different video creation tools and they also have a Windows-based upload tool which loads a video file and GPX file and compresses the video to their own format and uploads it to their website. After a few hours, I received an email to say my video was online and can now be viewed at http://www.kinomap.com/watch/amz2p2 and can be used on their iPad and Android apps by anyone.
Since buying the new bike trainer we have both ridden a mixture of fairly flat routes and also some very steep hilly ones using Kinomap and the electronic resistance that the Wahoo KICKR provides is enough to force the rider to go down to a very low gear to ride up some of the virtual hills!
We are planning to record more of our local ride routes and add them to the Kinomap site for other cyclists to use.