Ham Radio Rallies
Ham radio rallies, often called hamfests or swap meets, are gatherings where amateur radio enthusiasts come together to buy, sell, and trade a wide range of radio-related and other items, from vintage equipment to modern transceivers and test equipment. These events foster community among radio enthusiasts, offering a platform to connect with like-minded individuals and share knowledge. One of the main attractions at these rallies is the opportunity to explore and purchase used test equipment.
Visiting FRARS Hamfest in Wimborne in 2023
Every August, the local FRARS (Flight Refuelling Amateur Radio Society) based near Wimborne in Dorset runs the popular Hamfest event, which attracts traders from all over the UK and has a large area for a car boot sale area for smaller traders and personal items for sale.
The radio rally opens at 9 am, but most sellers do not have all their items available for sale until after 10 am, so you can find bargains by looking for items still waiting to be unpacked.
Andrew visited Hamfest this year and was looking for computer-controlled test equipment and any older equipment that would make good blog teardowns.
After walking around the trader's and personal sellers' stands for a couple hours, he came away with the following purchases:
The video below shows the Psion Series 5 starting up and opening different applications.
Pair of 2.4 GHz beam antennas from Lucent Technologies.
Paid £10
These compact 2.4 GHz antennas will be useful for a planned project to add remote plant monitoring to our allotment on the far side of town with a WiFi link back home, allowing us to monitor moisture levels in the soil.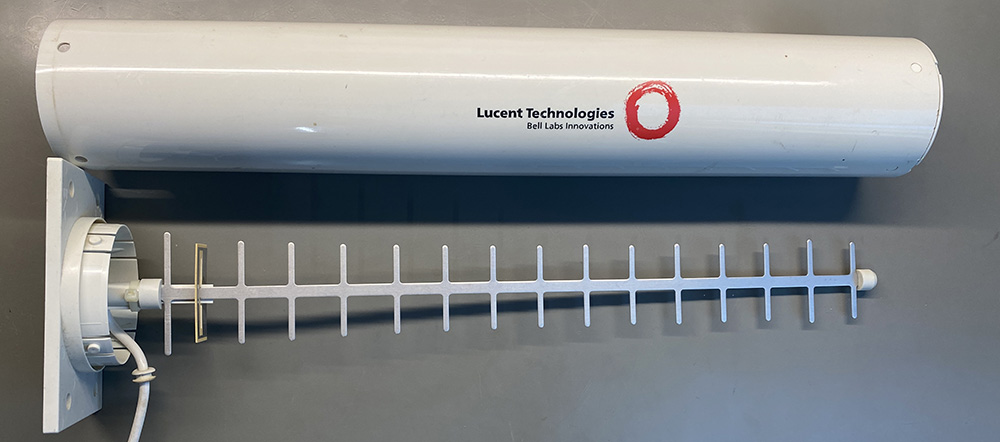 Benefits of Buying Used Test Equipment
Affordability: One of the primary reasons individuals go to ham radio rallies is the chance to purchase high-quality test equipment at a fraction of the cost of buying new. This affordability particularly appeals to newcomers to the hobby or those looking to expand their workshop without breaking the bank.
Wide Selection: Ham radio rallies bring together various vendors and sellers, each offering their selection of used test equipment. This variety gives attendees a unique chance to explore different brands, models, and functionalities, allowing them to make informed decisions based on their specific needs.
Hands-On Inspection: Unlike online purchases, buying test equipment at a rally allows you to physically inspect the items before purchasing. You can examine the equipment's condition, test its functionality, and ask questions directly to the seller, ensuring that you're getting exactly what you're looking for.
Considerations When Buying Used Test Equipment
Research: Before attending a ham radio rally, it's essential to research the types of test equipment you're interested in. Understand your target equipment's specifications, features, and average market prices. This knowledge will empower you to make informed decisions and spot good deals.
Condition Assessment: When inspecting used equipment, pay close attention to its physical condition. Check for signs of wear, damage, or corrosion. Ask the seller about the equipment's history, maintenance, and known issues.
Functionality Testing: test the equipment's functionality on-site whenever possible. Bring a set of essential tools and accessories to ensure that the equipment is in working order. This step is crucial to avoid purchasing a faulty item.
Negotiation: Don't be afraid to negotiate with sellers, incredibly if you've researched and know market prices. Polite and respectful haggling can often lead to getting a better deal.