I had been looking for a Kent hand key from eBay for some time as I plan to try to learn CW (Morse) to use with my Yaesu FT817 on the HF bands. As the Kent keys are around £100 new I thought that a used one would be a good way to try to learn morse with without spending a lot of money on a new key.
Last week I found a tatty and well-used looking key on eBay and decided to bid up to £35 for it. I won the auction with a final bid of £32.00 + £4.00 postage and the key arrived on Saturday (also my birthday).
The key as it arrived from eBay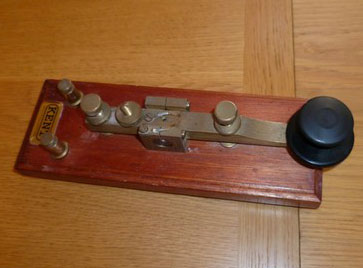 Unknown to me when I bid on the eBay key, my brother Andrew had bought me a brand new Kent Hand Key as a birthday present so I had two morse keys to use!
Andrew offered to restore the used key and we stripped it down to all its separate components and proceeded to clean up and polish all the brass parts, the wooden base was sanded back to plain wood, stained and then painted with several coats of varnish until it had a strong protective finish.
The main arm and pivot assembly after cleaning and restoration.

The used hand key had a made-in-England label but the new one had a made-in-Germany label and was slightly different in the way in which it was built with the centre link cable being under the key arm on the new model.
All the parts are cleaned and ready to be reassembled.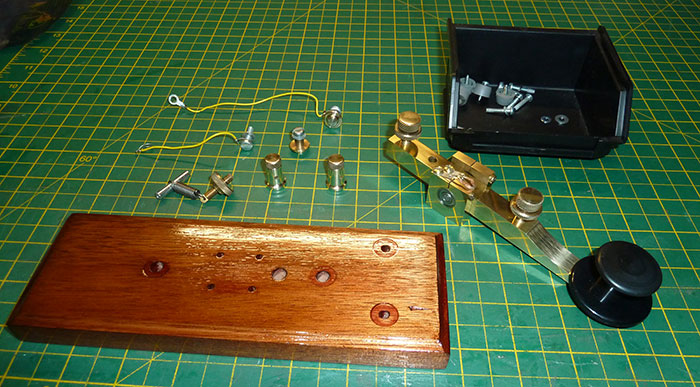 The entire process to polish the brass parts, varnish the wood and reassemble took 2 days overall and about 3 hours total working time and resulted in a finish on the restored key which we think looks much better than the finish on the new morse key!
The restored Kent Hand Key is next to the new model behind. The new model has a slightly higher wooden base and a matt finish to the wood.