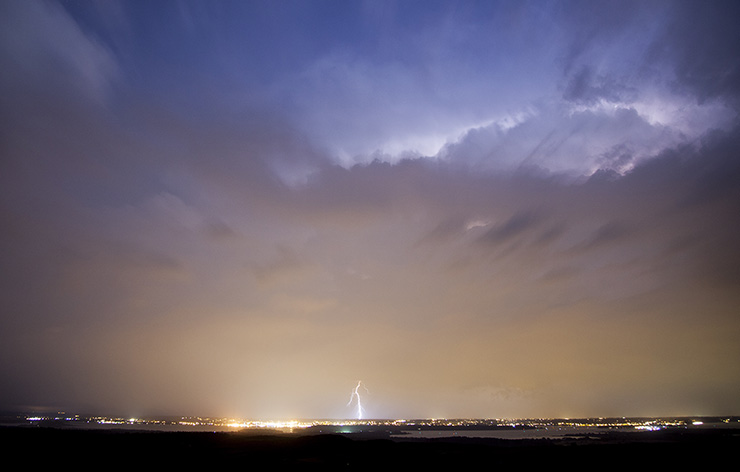 Lightning over Poole from the Studland road viewpoint
On the 3rd July, we had a huge thunderstorm and rainstorm in the evening which resulted in over 30mm of rain coming down in a few hours.
By 11 pm the lightning was flashing several times every second and the rain was coming down very hard, reports of local flooding started to come in on a local Facebook group. There are reports of 14,000 strikes being recorded across the country in just two hours.
We decided to go out in the Land Rover Defender with the camera and camcorder to see if we could find any flash flooding and also get some new lightning photos.
After driving up the High Street from our home we found a lot of water coming down Priests Road and so we drive through the water finding that the road had started to break apart!
The road in the High Street near the new Swanage School started to break apart and had risen up in the middle and along the seafront, there was a fountain of water coming up several feet from some of the drain covers. The water was also lifting several of the drain covers making driving dangerous. We drove back into the town centre and found that the town square was flooded and also further along the High Street near Playland was also under water.
After the rain eased we drove to the viewpoint overlooking Poole Harbour as the lightning had moved further north, we took photos for around an hour but nearly all the lightning we could see was sheet lightning and so we didn't get many direct strikes images.
The video below shows the flash flooding in Swanage we recorded during the 2-hour storm.