BlackMagic Intensity Pro HDMI capture of Galaxy Nexus and iPad 2
While working on a new project we needed to be able to send videos of the mobile apps under development to the clients online. This is to save us all from having to arrange meetings and lots of additional travel just to go over small parts of the project such as button clicks and actions on iPads and Android smartphones.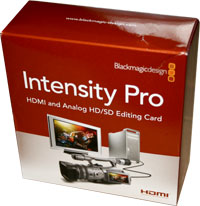 After a lot of research, we decided to order a BlackMagic Intensity Pro PCIe internal card for my 2008 Mac Pro so the card could be used under Windows 7 for capture with Adobe Premier and also on OSX Lion and Final Cut Pro.
Installing the card and downloading the latest software was straightforward but getting the card to capture from the iPad 2 and Samsung Galaxy Nexus proved to be difficult due to a lack of information on the correct settings to use. After a lot of trial and error we found that the Preferences for the supplied Media Express application needed to be set on:
Project Video Format: HD 720p 60
Capture Format: AVI 8-bit YUV (for best quality)
With these settings approx. 60 seconds of recording results in a 600Mb AVI file.
The screenshot below shows the Media Express application with the settings window open (click to open full-size screenshot)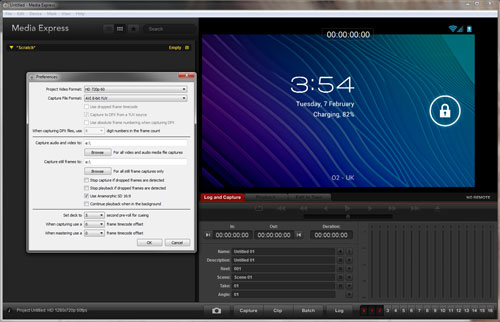 Recording the iPad 2 HDMI output works very well with no dropped frames or judder and the screen rotation is also supported but the Samsung Galaxy Nexus only seems to output when in Landscape mode and not Portrait which is disappointing. I haven't found any workaround for this yet so any videos captured will need to be rotated before they are sent to our clients or put online.
We also planned to also use this to capture the iPod Touch but this only supports video output when playing videos and photo slideshows and not the full-screen output which is restricted to the iPhone 4s which is too expensive to buy just for testing. We will have to stick with using a camcorder to record the iPod Touch video demos for now.
The photo below shows the Samsung Galaxy Nexus connected to the Samsung HDMI adapter with USB power and an HDMI cable attached.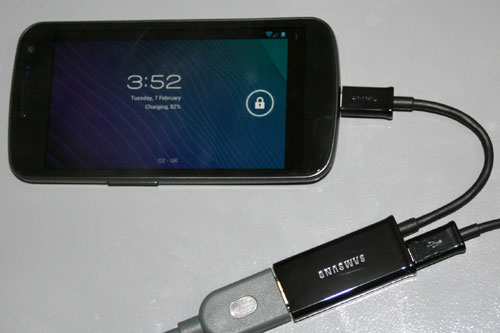 Update: March 2012
The card is very buggy under Windows 7 and I have not been able to get it to work under OSX at all. Seems it will work 10% of the time. Now looking at other options for a capture card and trying to get a refund on the faulty card but the company I ordered it from will not give a refund on a faulty item even when under 30 days old!
Update 30th March 2012
A new replacement card has been sent from Jigsaw and it works ok. Seems the first card had a hardware fault which explains all the previous problems.